The Sunday Post is a weekly meme hosted by Caffeinated Reviewer. It's a chance to share news, recap the past week on your blog, showcase books and things you've received, and share news about what is coming up for the week on your blog.
— Life Updates —
It's been a pretty low-key week for me. I've messed around with my blog layout for most of the week, and I've finally decided on a layout theme I'm sticking with: watercolors! If you guys haven't seen my blog lately, check it out and let me know what you think! I worked on changing a lot — the header, featured images, fonts, post dividers… just about everything! I'm super happy with how it turned out, and I just love having so many colors on my blog 😀
I also got a few early birthday presents this week! Marina over at Books of Magic sent me a copy of Perfume: The Story of a Murderer by Patrick Süskind, a book about a man in 18th century France who was born with an extraordinary sense of smell. According to the synopsis on Goodreads, he "becomes obsessed with capturing the smells of objects such as brass doorknobs and fresh-cut wood. Then one day he catches a hint of a scent that will drive him on an ever-more-terrifying quest to create the 'ultimate perfume' — the scent of a beautiful young virgin." And thus, a murderer is born! It sounds really interesting, and Marina gave it high praise, so I'm looking forward to starting it soon!
I also spent some time with my mom later in the week and she gave me another early birthday present: an egg poacher! I love having Eggs Benedict for breakfast, and a few months ago I taught myself how to make the meal at home (it's surprisingly easy), but I didn't have an actual egg poacher and was just using the "dump the egg in some boiling water" method. It works alright, but I'm so excited that I now have an egg poacher to work with! She got it off of eBay, and she said it's actually a pretty old brand, but the poacher looks excellent! I'm so excited to poach all the eggs 😀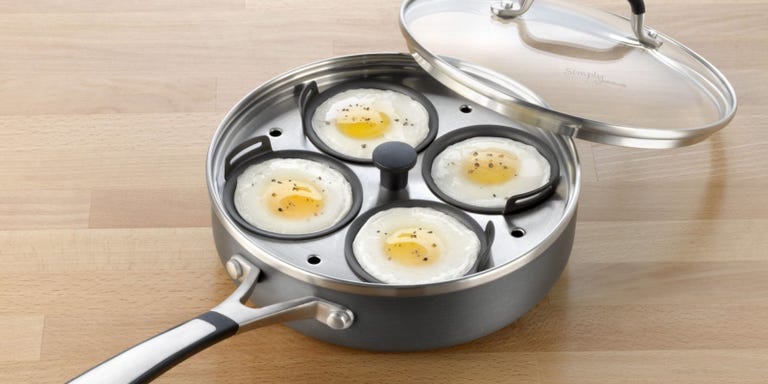 Other than that, it's been a pretty chill week. I've done a little reading here and there, but I've mostly been focused on trying to land this job I've been interested in. It's for an online company that has an opening for an assistant writer. I've been in contact with the owner and the head writer for the last few weeks, but I'm still waiting to hear back about if I got the job or not. Keep your fingers crossed for me! I desperately need this job, and it'd be beyond amazing if I could start my career in writing and put my degree to use!
— Book Reviews —
This week, I finished up Legend by Marie Lu, a young adult dystopian novel set in a future where the United States has become divided. It was a great read, and I'm interested in reading more of this author's works in the future. Check out my 4-star review here:
— Weekly Posts —
— Other Posts —
— Current Reads —
I had started Stiff: The Curious Lives of Human Cadavers by Mary Roach and Terminal Core by Lynn Steigleder last week, but it's slow going with those two. I ended up starting Slaughterhouse-Five by Kurt Vonnegut in the meantime. I've read this book before, but it's been a while. I think the last time I read it was in high school. It's a pretty small book, so I figured it would give me a break from the heftier novels I've been trying to read. I hope to finish it up soon and post a review sometime this week.
Afterwards, I plan to continue reading Stiff and Terminal Core, and I'll also probably start reading Perfume as well.
---
How has your week been?